This blog post was originally published by Ben Rathbun for Lansing 5:01, who strives to retain and attract young professionals in the Lansing region by connecting both college talent and young professionals to the community's emerging quality of life opportunities.
---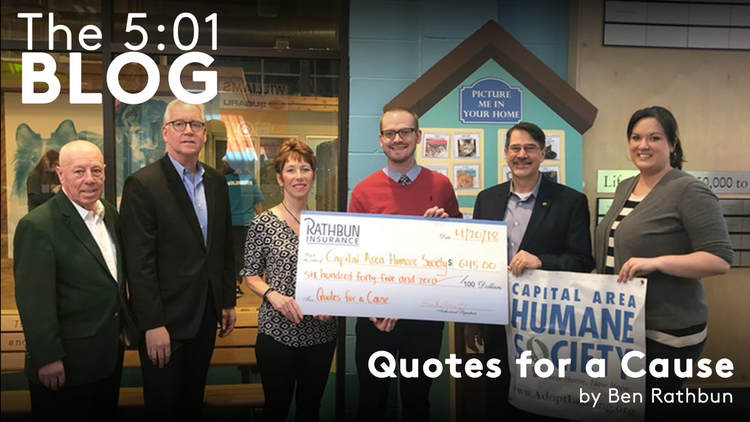 The year was 1999. I was seven years old. Despite my young age, my mom was still dropping me off for work, dressed to the nines in my suitcoat. I pulled paper records each time a customer called. Took the trash out. It'd be a few years until they let me answer the phones, let alone sell a policy. I didn't trip and fall into insurance. While I didn't always know my end game within the insurance world, I always knew risk management and business was the place for me.

Insurance professionals truly believe we work in an outstanding industry, with incredible opportunities and the ability to form meaningful relationships. We just need to yell our story. Louder. There are so many opportunities in the insurance industry right here in the Capital Region. I'd feel I was robbing tomorrow's leaders if I didn't at least make young adults aware of why insurance, specifically in Lansing, is a great career.


BREADTH OF OPPORTUNITY – Actuary. Attorney. Auditor. Claims Adjuster. Customer Service Representative. Fraud Examiner. Human Resources Manager. I.T. Consultant. Sales Agent. Sales and Marketing Manager. The list goes on. There are so many different career paths within insurance organizations. I have several industry friends who have moved within organizations but to VASTLY different roles. My experience is profoundly finite compared to the breadth of opportunities are available within the insurance industry. Regardless, every day in insurance brings something new.
ENTREPENURIAL SPIRIT – Insurance drives innovation. New homes wouldn't get built without insurance. New businesses and developments wouldn't be given the green light by lending institutions. Community organizations wouldn't be allowed to hold events and festivals. Companies wouldn't invest in research and development to further their missions without the proper coverage. Insurance gives people, businesses and government institutions the security to drive innovation.
RECESSION-PROOF - As the world changes and new products and exposures are introduced to the marketplace, insurance professionals will have to consistently adapt. While the risks we consult on may change, there will always be another exposure to manage. Until risks cease to exist, the insurance industry is here to stay.
SENSE OF PURPOSE – Insurance puts lives back together. The product helps families and businesses in their time of need. We have the opportunity to assist people and businesses to protect not only their physical items, but also their futures.
COMMUNITY – The insurance industry has allowed me great flexibility being able to assist not only our family business, but also our industry and community. Getting involved at our state association, local high schools and colleges has allowed me to show the next generation what a career in insurance entails. Volunteering with Ele's Place and Habitat for Humanity have allowed me to really get to know our community on the ground level. Getting involved in Old Town has given me the opportunity to assist the business community. There are so many chances in the insurance industry to get truly immersed in Lansing.
JOBS – I know I should have led with this. But, In the next ten years, 40% of insurance industry employees will retire. Someone has to fill those jobs. Why not you?

Insurance is unique in that it truly gives motivated professionals the opportunity to touch almost every aspect of the business world. The industry has given me so much and I can only hope that today's young professionals truly understand the possibilities. They're endless.