It's that time of the year again for Open Enrollment. In the individual health insurance marketplace, you can only purchase new plans or make updates to existing plans from November 1st, 2018 to December 15th, 2018 for 2019 health plans. Without a qualifying event, this is the only time you'll be able to act on your 2019 health insurance needs.
If you already have an individual health insurance policy, in the comings days you should be receiving notices on your individual healthcare coverage. You will receive a letter from your insurance company, regardless of whether or not you purchased coverage through the marketplace. If you purchased coverage from the marketplace, you will receive a letter from them as well. Together they will help you make decisions about your 2019 health coverage.
The notice you will get from your insurance company will tell you if:
You'll be automatically enrolled in your 2018 plan or a plan similar to it
You won't be automatically enrolled and need to enroll in a plan in order to have health coverage in 2019
If you'll be automatically enrolled in the same plan or a similar plan, the two notices will give you the following information:
Insurance company notice will tell you:
The plan you'll be enrolled in
Your 2019 monthly premium and estimated savings
Any changes to your plan for 2019
Your other coverage options, deadlines and important information about your coverage
Marketplace notice will tell you:
If you'll get the same premium tax credit and other savings you had in 2018
If you'll lose your premium tax credit and other savings unless you update your Marketplace application and the new information shows that you qualify for savings if you won't be automatically enrolled in your 2018 plan, your notice will explain your coverage options, enrollment deadlines, the next steps to take and other important information.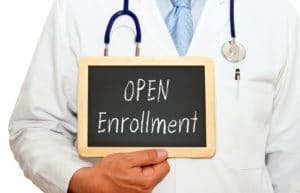 No matter what, you can choose a different plan. Even if your insurance company notice says you'll be automatically enrolled in the same or a similar plan, you can switch to a different plan for 2018 during Open Enrollment, which runs November 1st –December 15th. Your health coverage will have a rate change due to change in age. If your coverage lapsed during 2018 or you forgot to add a dependent, you can do this during Open Enrollment.
And if you need assistance with a Medicare plan, this year's Open Enrollment runs October 15th - December 7th.
Please remember, there is no cost associated to you in using our services. We can assist you in picking a plan that fits your needs and provides access to your doctors. If you are interested in switching plans, need to reenroll, or have other questions about your health coverage, please contact Kim Evans at (517) 482-1316. If you get on the Marketplace yourself, please use our health insurance agent Pat's National Producer Number (1003801) on your application, or she will not be able to assist you with any issues that arise with your plan either during or enrollment or throughout all of 2019.