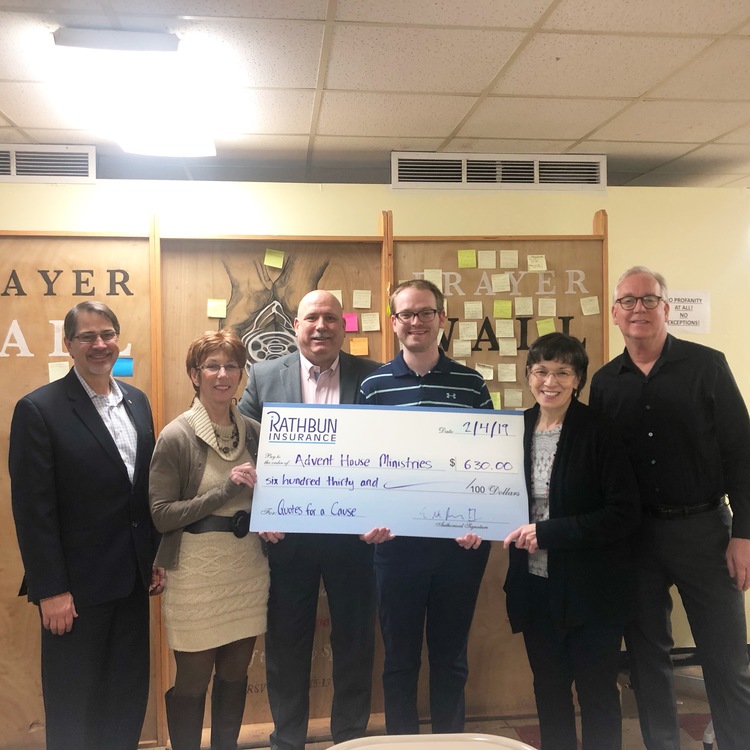 We are excited to run a monthly Quotes for a Cause campaign. Each month, our agency will be donating $5 per new business quote to a nonprofit or charitable organization, regardless of whether or not the policy is actually purchased.
Today, we stopped by Advent House Ministries, who brings together people of all faiths to cultivate a community of hope and to nurture stability of self among those who struggle in poverty. Located in the heart of Lansing, Advent House Ministries has been helping people out of poverty and homelessness for over 30 years. We were able to present them with a check for $630!
The roots of Advent House are in Westminster Presbyterian Church, and that's still the place they call home. However, the programs draw on the entire community for support. That community includes a number of religious groups, representing the diversity of our community; community service and caring, committed individuals. They all share a common belief and commitment to helping our brothers and sisters in need.
As the needs of the homelessness and poverty have changed and become more apparent over time, Advent House has responded and expanded to meet those needs. They have continually evolved since inception to always bring aid in a timely and effective manner. It is their hope and aim to use their programs to provide respite from life's struggles and create opportunities for children and adults to fulfill their potential.
Currently, Advent House runs several programs, including:
Day Shelter and Food - They are open every weekend of the year, serving over 34,000 meals to more than 2,200 people. The Weekend Day Shelter is a community gathering place where needy families and individuals can stay all day, have good food and have access to community resource information.
Children's Activities - The Advent House Literacy Program includes an outreach to children and their families who come to the Weekend Day Shelter. Each year, Advent House works with over 400-500 children, providing recreational and learning activities each Saturday and Sunday through our Children and Families Program. They also send 15-25 children to a wonderful week away at summer camp, giving each one an experience and memories to create a brighter future.
Life, Literacy & Employment - Learning the basic skills for finding and keeping a job can be a challenge. Advent House helps those struggling with homelessness and joblessness to gain life skills and find permanent employment. They help with literacy skills and getting a GED for those who need it, as well. Last year, Advent House helped over 150 people build stability and hope.
Housing Assistance- Advent House provides monthly rent assistance and the one-on-one support of a case manager to more than 12 families and 20 individuals who have been homeless and are now in permanent housing. They also supports two shelter homes that assist formerly homeless men coming through recovery and one shelter home that helps a formerly homeless family working to build a new life.
If you would like to support Advent House ministries, please visit their website for ways to be of assistance.