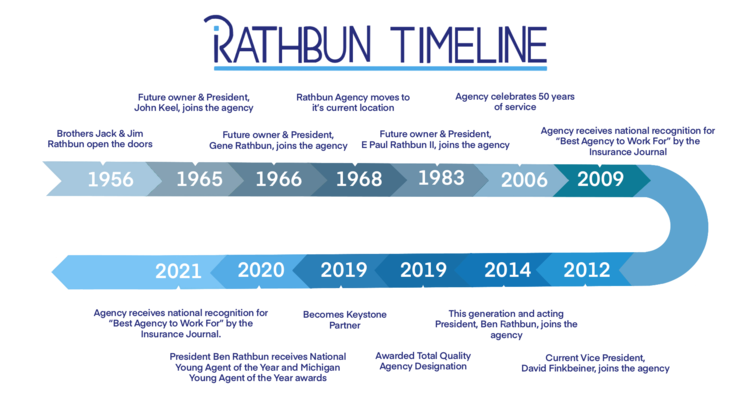 There have been lots of changes at the agency in the last six months and we wanted to take some time to reflect on our history. As we enter our 66th year, the third generation of Rathbun is officially at the helm. Let's take a walk down memory lane at where we came from and where we are now.
The Rathbun Agency was founded by two Rathbun brothers, Jack and Jim, in 1956. The agency began with no customers and one company contract, but steadily grew through referrals as a result of their exceptional customer service. John Keel joined the agency in 1965 and retired as President after 53 years in 2018. John was instrumental in the growth of The Rathbun Agency and we will always remember him as an innovative and brilliant salesman who assisted in laying the groundwork that the agency still operates on today.
Jack and Jim's brother, Gene, joined the agency to perform inside underwriting work in 1966. Subsequently, Jim left the firm to become CEO & President of The Insurance Company of the West. Jack retired in 1989 and Gene in 1996. Both Jack and Gene solidified the importance of the agent-customer relationship. We still oftentimes reminisce on stories from long-term clients of when Jack or Gene came and sat at their kitchen table. To truly get to know our clients not only as a policyholder, but as a human being. We continue to cherish providing that service to our current insureds.
In 1968, The Rathbun Agency moved the business to its present location at the corner of Pine and Saginaw in Lansing. In 1983, Gene's son, Paul, joined the agency as a personal and commercial lines producer. He became a partner in 1990 and was the President at the time of his passing in 2021. Paul was instrumental in preserving the second-generation legacy of The Rathbun Agency.
David Finkbeiner joined The Rathbun Agency in 2012 as a personal and commercial lines producer after a career in the food service industry owning a high-end dining restaurant. He joined the ownership and management team in 2018 and currently serves as Vice President. The third generation of The Rathbun Agency officially began in 2014 when Gene's grandson, Ben, joined the organization as a personal and commercial lines producer. Ben joined the ownership team in 2019 and assumed the role of President in 2021.
"We like to think of ourselves not as salespeople selling insurance," says Ben, "but as advisers assisting others in buying insurance. Sure, we have competitive rates - but most people do not know a great deal about insurance and count on their agent to know them, educate them, and assist them in making smart purchasing decisions when it comes to consultative risk management."
The Rathbun Agency is well positioned for the future due to its reputation in the community, its tradition of being involved in civic events and activities and its representation of many insurance carriers with strong claims service and competitive products. They have served on agency advisory councils for many of the carriers they represent and have proudly earned Presidents Club, Outstanding Agent Designations and Exceptional Agent Designations with various carriers. The Rathbun Agency was also selected by the Insurance Journal as one of the top six companies to work for in the United States and by Principal Financial Group as one of the top ten agencies nationwide providing financial security to its staff.
All in all, the odds are with The Rathbun Agency to continue it's tradition of excellence.