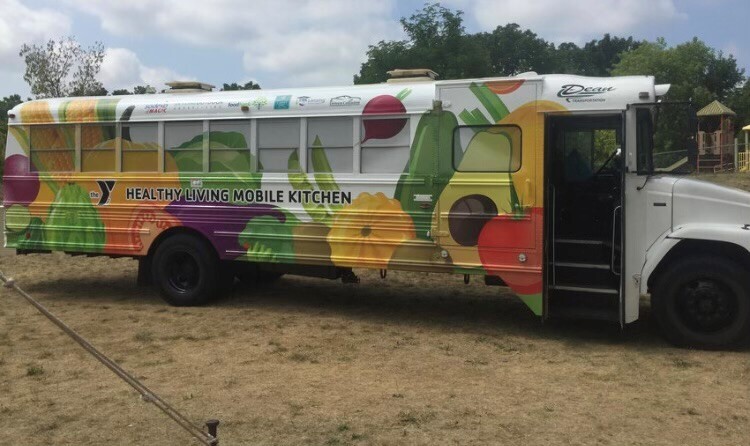 More than likely, as you read that, you found yourself mimicking the motions and forming the letters to the timeless song delivered by the Village People. The YMCA, or "the Y," carries a particular memory, feeling and space in our heads that reflects what we imagine the Y to represent.
To many people, the Y is a gym & swim. A place we go to exercise. And although that is a true fact for the organization, the YMCA of Metropolitan Lansing is that and SO much more. During the COVID-19 pandemic, the Y along with community partner SodexoMagic, served over $360,000 in free meals to greater Lansing kids challenged with food insecurity.
The Lansing Y formed a community feeding program in 2011 & then launched a Healthy Living Mobile Kitchen in 2016. The mobile kitchen was made possible by another prominent community and business leader, Kellie Dean of Dean Transportation, that donated the 54 passenger, handicap accessible bus. This proved vital during the challenging days of COVID that the entire community, country and world experienced.
One of the architects of the Lansing YMCA feeding program was the organization's very own, Casey Thompson. Casey, who has been with the Lansing YMCA since 2006, was recently appointed as the first woman president in the organization's 178-year history. That focused dedication, vision and passion Casey continues to bring & implement into the YMCA's strategic plan is evident by the recovery, progress and success she has seen in just a short time at the helm. Casey acknowledges there will be some adversities to overcome, yet the Y will continue to celebrate each accomplishment along the way to full, organization recovery.
I have been involved with the YMCA for over a decade, previously chairing their Christian Emphasis Committee, and currently serving as the Board Chair for the organization. The perseverance that come from its new leader shines bright as the YMCA of Metropolitan Lansing continues to be dedicated to youth development, healthy living, and social responsibility to all that live and prosper in our amazing Lansing community!