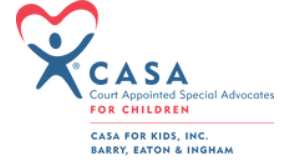 Since September 2015, The Rathbun Agency has selected a different non-profit each month as part of our Quotes for a Cause giving campaign. This campaign allows our Agency to partner with local organizations that are making a positive impact our own community. At the end of each month, we present that month's organization with a check for $1,000.
In April, we are partnering with the Casa for Kids in Barry, Eaton, and Ingham counties in Michigan. Casa for Kids, provides highly trained volunteers to advocate within the court system and the community for the best interest of children who are under court jurisdiction due to abuse and neglect. These volunteers, called Court Appointed Special Advocates, partner with the Court and child welfare agencies to ensure children receive needed services and placement in the most appropriate safe and loving permanent home. CASA is referred each new case under court jurisdiction and provided compassionate advocacy to approximately 100 children last year.
More information about Casa for Kids, how to volunteer or give can be found on the Casa for Kids website.