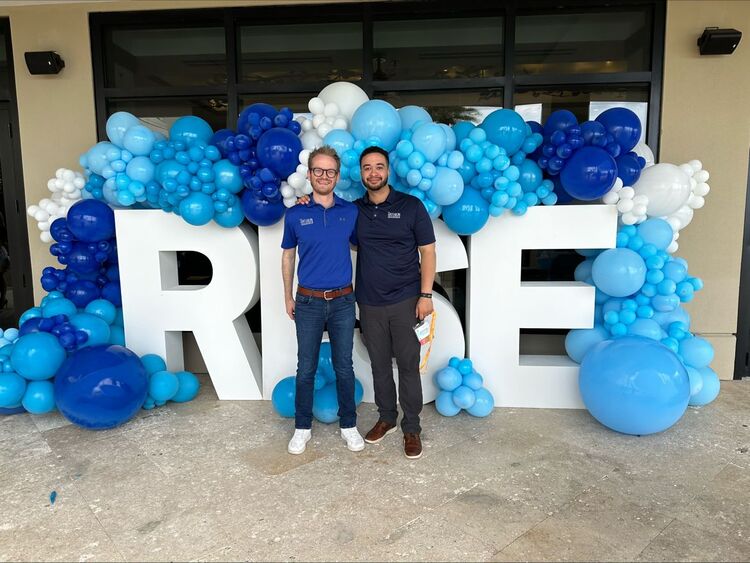 Earlier this year we shared that Ben Rathbun was a recipient of the prestigious 2023 RISE Award! The recognition came as part of the 35 Under 35 list, which highlights young professionals who have made remarkable contributions to their respective fields. This year, Ben's outstanding achievements have rightfully earned him a well-deserved place among these accomplished individuals.
Ben Rathbun and Darren Bardell, a fellow producer at Rathbun Insurance attended the RISE Leadership Summit & Awards Gala, held in Fort Lauderdale Beach, FL, this past week. During this memorable occasion, Ben Rathbun was presented with his RISE Award on the grand stage. The recognition showcased Ben's dedication, expertise, and exceptional performance within the insurance industry.
In addition to the Awards Gala, Ben and Darren actively participated in two days of intensive leadership training, workshops, and networking sessions. These valuable opportunities allowed them to gain insights from industry experts, share experiences with like-minded professionals, and learn strategies to further excel in their careers.
The leadership training sessions were carefully designed to empower rising stars like Ben and Darren with the skills and knowledge required to thrive in today's dynamic business environment. Through interactive workshops, thought-provoking discussions, and practical exercises, participants were equipped with the tools needed to enhance their leadership abilities, cultivate innovative thinking, and drive success.
At Rathbun Insurance, we firmly believe in fostering an environment that encourages growth, excellence, and continuous improvement. Ben's success is a reflection of our collective commitment to providing exceptional service, cultivating talent, and pushing boundaries within the insurance industry.
We extend our heartfelt congratulations to Ben Rathbun on being recognized as a 2023 RISE Award Winner and for joining the esteemed 35 Under 35 list.