We are thrilled to congratulate Rathbun Insurance account manager Kim Evans, on being awarded the Girl Scouts Heart of Michigan Honor Pin. This award is a testament to Kim's dedication to community service and her commitment to helping others.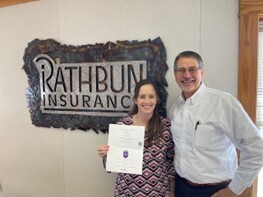 The Girl Scouts Heart of Michigan Honor Pin is a prestigious award that recognizes individuals who have gone above and beyond in their service to the community. To be nominated for this award is an honor in itself, as it recognizes the efforts of individuals who have made a significant impact on their community. When asked about the award, Kim said, "I feel honored and humbled to receive this award from the Girl Scouts of America. I have had the privilege of watching these young girls grow year over year, building new skills and gaining confidence with each passing day. It brings me immeasurable joy to see them take on new challenges and become the leaders of tomorrow. Being recognized with the honor pin gives me a sense of purpose, knowing that I have played a small part in their growth and development."
Kim's nomination and selection for this award is a true reflection of her dedication to making a positive difference in the lives of those around her. Kim has been an integral part of our team at Rathbun Insurance, providing exceptional customer service and support to our clients. Her dedication to her work is matched only by her passion for helping others.
At Rathbun Insurance, we place a high value on community involvement and volunteerism. Our staff is actively involved with many non-profit organizations, including the Girl Scouts, and we encourage our team members to take an active role in giving back to their communities.
Our commitment to community service and volunteerism is not only an expression of our values, but it also translates back to our work and culture at Rathbun Insurance. We believe that by actively engaging with our community, we can better understand the needs and concerns of our clients, and provide them with the best possible service.
Kim's receipt of the Girl Scouts Heart of Michigan Honor Pin is a testament to the power of community involvement and the impact that individuals can make when they are committed to helping others. We are honored to have Kim as a part of our team at Rathbun Insurance, and we are proud to support her in her efforts to make a positive impact in the lives of those around her.
Congratulations, Kim, on this well-deserved recognition. We are proud to call you a member of the Rathbun Insurance team and look forward to seeing the great things you will continue to achieve in the future!