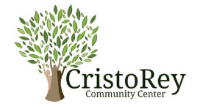 Since September 2015, Rathbun Insurance has been running the Quotes for a Cause giving campaign, where we select a different non-profit organization each month to support. This initiative allows the agency to collaborate with local organizations that are making a positive impact on their community. At the end of every month, Rathbun Insurance presents the chosen organization with a generous donation of $1,000.
Our June Quotes for a Cause is Cristo Rey Community Center. This organization is dedicated to providing essential services to those in need, including access to food, medical care, and counseling programs. Since its establishment in 1968, Cristo Rey Community Center has been focused on healing the sick, feeding the hungry, protecting and enriching children, supporting the elderly, and advocating for the most vulnerable individuals in their community. The center has helped countless people during challenging times by offering them medical assistance, food, clothing, and most importantly, understanding and compassion.
This month, Rathbun Insurance has the privilege of doubling our support for Cristo Rey Community Center by becoming the lunch sponsor for their Golf

Fore Giving event in collaboration with Auto Owners Insurance. Through this partnership, the agency and Auto Owners Insurance contributed a $2,000 donation specifically for the event. For Rathbun Insurance, partnering with the Cristo Rey Community Center has been a source of great joy and satisfaction. The agency recognizes the incredible work done by the organization and is grateful for the opportunity to support such a remarkable cause.

For more information about Cristo Rey Community Center, including how to volunteer or make a donation, interested individuals can visit the organization's website. The Rathbun Agency is proud to be associated with such an incredible organization and looks forward to continuing their support for the community.