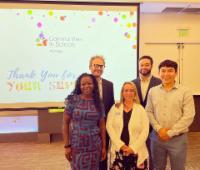 Since September 2015, Rathbun Insurance has been running the Quotes for a Cause giving campaign, where we select a different non-profit organization each month to support. This initiative allows the agency to collaborate with local organizations that are making a positive impact on their community. At the end of every month, Rathbun Insurance presents the chosen organization with a generous donation of $1,000.

Our July Quotes for a Cause is Communities in Schools (CIS) in Michigan in support of their 2023 Leadership in Education dinner. Rathbun Insurance understands the crucial role that education plays in shaping the future of our communities and are proud to support CIS and their mission in ensuring that all students have access to the resources and support they need to succeed. .
Communities in Schools in Michigan's mission is to surround students with a community of support, empowering them to stay in school and achieve in life. Communities In Schools of Michigan believes relationships are the cornerstone to unlocking a student's potential. They plan to succeed by including in their strategies, ingraining in their culture, and reflecting in their behaviors, anti-racist principles and practices of diversity, equity and inclusion. As a result, CIS breaks down immediate and systemic barriers to create and equitable outcomes that are sustainable.
For more information about Communities in Schools (CIS) in Michigan, including how to volunteer or make a donation, interested individuals can visit the organization's website. The Rathbun Agency is proud to be associated with such an incredible organization and looks forward to continuing their support for the community.