In the dynamic world of insurance, where innovation meets tradition and knowledge, Rathbun Insurance is proud to announce a remarkable achievement – our President, Ben Rathbun, has been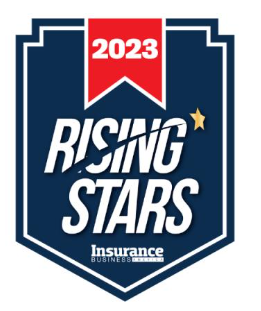 honored as one of the Best Insurance Professionals Under 35 by Insurance Business America. The 2023 Insurance Business America Rising Stars award recognizes young insurance professionals across the United States who are making significant strides in the industry.
Ben Rathbun's recognition as an Insurance Business America Rising Star is a testament to his unwavering commitment to excellence and innovation within the insurance industry. This prestigious honor is not just a reflection of his talent but also a celebration of his sustained dedication. Each year, Insurance Business America selects a group of Rising Stars, acknowledging their outstanding contributions and dedication to the insurance sector. The selection process is rigorous and comprehensive, with an industry-leading panel evaluating candidates based on their roles, achievements, and future aspirations. In 2023, more than 70 exceptional individuals have been awarded the coveted Rising Star status, and amongst this distinguished group is our very own Ben Rathbun.
The insurance landscape is continually evolving, driven by technological advancements and changing customer expectations. To succeed in this ever-changing environment, it takes a unique blend of innovation, expertise, and a commitment to maintaining the human touch in insurance interactions. Industry expert Michael Falvey, President and CEO of Falvey Insurance Group, provides valuable insight into what sets a Rising Star apart. According to Falvey, those who excel in this industry are those who drive innovation while still embracing the essential human element of insurance. In his words, "they are individuals who understand the importance of challenging the status quo and pushing the boundaries of what is possible in the world of insurance".
One key advantage that sets these Rising Stars apart is their comfortability and curiosity in challenging the established norms. They possess a natural aptitude for questioning assumptions, seeking fresh perspectives, and leveraging technology to enhance the insurance experience. Their relentless pursuit of improvement ensures that the industry continues to evolve and adapt to the changing needs of our clients.
Insurance Business America's Rising Stars are not just the future of our industry; they are actively shaping that future today. Their boundless initiative, unwavering dedication, and passion for their work are the driving forces behind the transformation of the insurance landscape.

At Rathbun Insurance, we take immense pride in having Ben Rathbun at the helm, leading our team with his vision, expertise, and commitment to excellence. Ben's recognition as a 2023 Insurance Business America Rising Star is a testament to his outstanding contributions and unwavering dedication to the insurance industry.
As we move forward, we are excited to continue our journey with Ben and our team of talented professionals, all of whom are committed to delivering innovative insurance solutions while maintaining the personal touch that defines our agency.
We extend our heartfelt congratulations to Ben Rathbun on this well-deserved recognition and look forward to witnessing the continued success and contributions of our Rising Star in the years to come. Ben's achievement is not just a personal milestone but a reflection of Rathbun Insurance's commitment to excellence in serving our valued clients.
Together, we will continue to shape the future of the insurance industry, providing the best possible protection and peace of mind to individuals and businesses across the state.