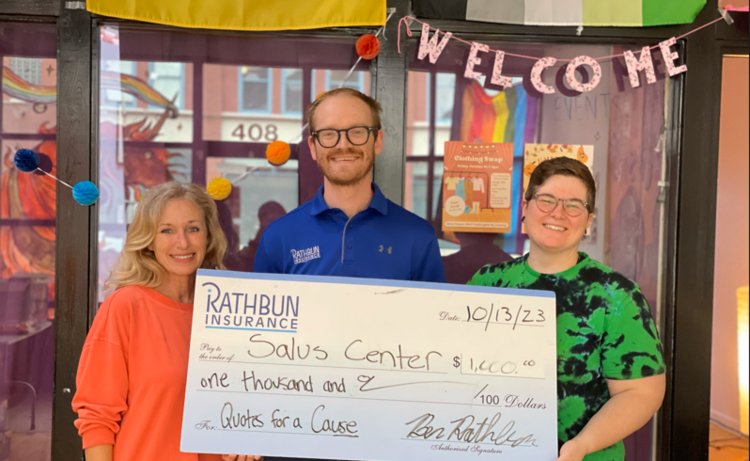 At Rathbun Insurance, we believe in the power of community and giving back. Since September 2015, we have been running our Quotes for a Cause giving campaign, a heartfelt initiative that allows us to collaborate with local non-profit organizations making a profound impact on our community. Each month, we select a different organization to support, and at the end of that month, we present them with a donation of $1,000. It's our way of making a positive difference and strengthening the bonds that tie us together.
For our October Quotes for a Cause, we are thrilled to stand alongside the Salus Center, an organization that is dedicated to creating a safe, inclusive space for all. Their commitment to diversity, equity, and inclusion mirrors our own values, making this partnership even more meaningful. We were deeply honored to meet with Laurel Tilot, the President of the Board of the Salus Center, who graciously gave us a tour of their beautiful space. The Salus Center's dedication has left an incredible mark on our hearts, reinforcing our belief in the power of community and the importance of our community giving.
Rathbun's President, Ben Rathbun, and Commercial Account Manager, Cheryl Grimes, had the privilege of presenting a check for $1,000 to the Salus Center. They did so while the Salus Center was hosting a Clothing Swap, one of their many events that exemplifies the heart and soul of this incredible organization. As we move forward, we are reminded that true strength lies in unity, and genuine progress is made when we extend our hands to those in need. 'Quotes for a Cause' is not just an initiative; it's a commitment to building a stronger, more connected community that thrives on our values of playing for each other and giving it away to keep it.
Rathbun Insurance is honored to be a part of this journey, and we look forward to continuing our mission of Quotes for a Cause, where every quote we provide is not just a policy; it's a promise to stand with our community, hand in hand. Together, we can make a difference.