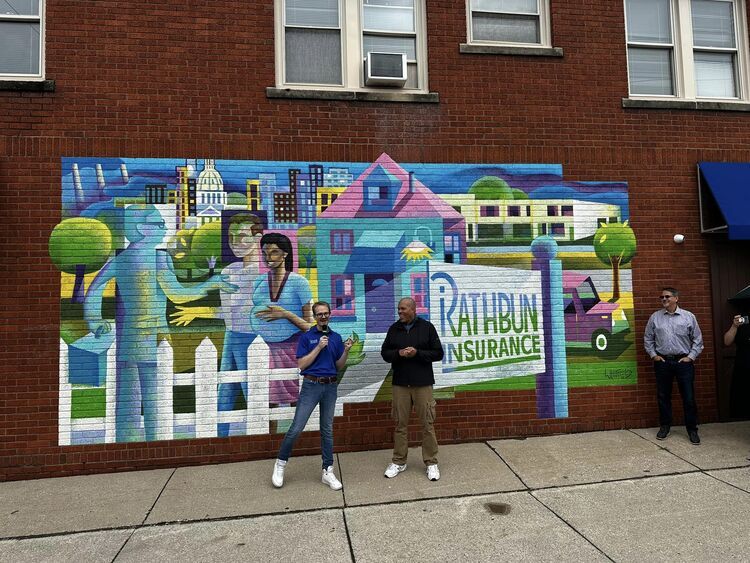 We are absolutely thrilled to be writing this blog post to express our immense gratitude to each and every one of you who joined us yesterday for our mural reveal block party. Despite the rain, your unwavering enthusiasm and dedication truly warmed our hearts. On behalf of Ben Rathbun, David Finkbeiner, and the entire Rathbun team, we wish to express our profound gratitude to our amazing community members, friends, family, business partners, and esteemed guests who have contributed to making this event truly unforgettable.

Didn't catch the event, no worries- check out the video of the event to experience the fun for yourself.
First and foremost, we want to express our sincere appreciation to the Greater Lansing Arts Council and Executive Director, Meghan Martin. While Rathbun Insurance funded a majority of the project, we are incredibly grateful to have also received a City of Lansing, Michigan - Government Mini Pocket Grant through the Arts Council in support of this project. "The City of Lansing Arts Grants are designed to support arts organizations and create community-driven artistic projects that capitalize on Lansing's assets, inspiration and potential, contributing to a sense of place for residents, businesses and visitors. Passion for the arts and commitment to fostering a vibrant cultural scene in our community are truly inspiring." We thank them for their continued support of art in our community.
A big shout-out goes to Mayor Andy Schor for his gracious presence and inspiring words during the event. Your support adds tremendous value to initiatives like this, and we thank you for taking the time to celebrate another project that beautifies the Saginaw Street Corridor.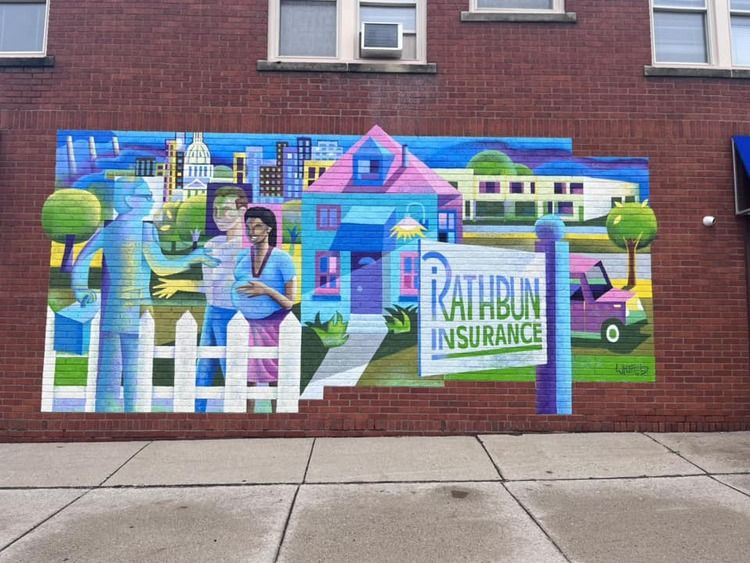 But perhaps the most heartfelt thank you goes to the incredibly talented local artist, Brian Whitfield. Brian, your mural has transformed our neighborhood into a canvas of beauty and expression. Your skill and creativity have left an incredible mark on our neighborhood, and we are beyond grateful for your dedication to this project. Your ability to capture the essence of Rathbun's 65 plus years serving the community and infuse it with color and life is truly remarkable.
When we began this project, little did we know that Brian's artistic aspirations would catch the attention of an anonymous donor. This benefactor, upon reading an article where Brian expressed interest in obtaining a lift (boom) in order to reach new heights while commissioning murals, gifted him $10,000 towards this purchase. Brian, this surprise gift is a testament to the profound impact your art has on our community. We're thrilled that your dreams are receiving the support they deserve.

In order to infuse the event with vibrant energy, we're thankful to have teamed up with RA Audio Production! ! Their sound system and music elevated the atmosphere, ensuring a lively and bustling mood throughout.
And lastly, to all of you who attended our mural reveal block party, you are the heart and soul of our community. Your support, rain or shine, means the world to us. Together, we've added a splash of color and creativity to our neighborhood that will continue to inspire for years to come. Let's celebrate this wonderful achievement and look forward to more artistic endeavors that unite us all.

With gratitude and warm regards,
Ben Rathbun, David Finkbeiner, and the entire Rathbun Insurance team