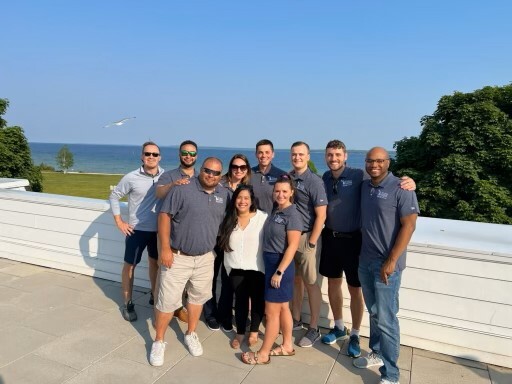 The 2023 Conference Powered by Big I Michigan's Young Agents proved to be a remarkable event for insurance professionals seeking personal growth and networking opportunities. Among the esteemed attendees Rathbun Producer, Darren Bardell, who was a presenting speaker on the panel discussing "Leveraging Your Leaders." With an agenda packed with informative sessions and exciting networking opportunities, the event provided an ideal platform for young agents to connect, learn, and build lasting friendships.
Darren brought his expertise and unique perspective to the panel discussion on "Leveraging Your Leaders." During the session, he emphasized the importance of nurturing strong relationships with mentors and leveraging their knowledge and guidance to propel one's career forward. Darren's passion for mentoring and helping others shone through as he shared:
"True leadership is not about the title or position; it's about empowering others to discover their full potential and achieve greatness."
Beyond the panel discussion, the conference offered a diverse range of sessions designed to foster professional growth. Attendees had the opportunity to participate in a mentor session titled "Help Others to Help Yourself," where they learned the value of mentorship and the reciprocal benefits it brings. Panel discussions, such as "Gray Areas of E&O," provided valuable insights into navigating the complexities of errors and omissions in the insurance industry.
One of the highlights of the event was the "Safety Patrol Resort Risk Management Tour of Mission Point" led by Tom Humphreys, a renowned expert, and Mark Ware, the resort owner. This interactive tour offered a unique opportunity for attendees to explore real-world risk management practices and gain practical knowledge that could be applied in their own professional settings.
Amidst the sessions and professional development opportunities, the conference also fostered an atmosphere of camaraderie and friendship. Young agents enjoyed Mackinac Island's scenic beauty and charming ambiance provided the perfect backdrop for these meaningful interactions.
Big I Michigan's Young Agents 2023 Conference was a resounding success, bringing together insurance professionals from various backgrounds for two days of knowledge-sharing, professional growth, and networking. Darren Bardell's insightful contributions as a presenting speaker on the panel discussing "Leveraging Your Leaders" showcased his expertise and commitment to empowering others. The event served as a catalyst for young agents to enhance their skills, expand their network, and form lasting bonds. As attendees returned to their respective roles, they carried with them valuable lessons and memories of a transformative conference experience on Mackinac Island.