Entrepreneurship is a thrilling and rewarding path that requires dedication, resilience, and a strong support system. As an speaker on the Young Alumni Panel for the Entrepreneurship Bootcamp at Michigan State University's Broad College of Business, I had the privilege of sharing my experiences as the owner of an independent insurance agency. Alongside me were two remarkable panelists: Todd Duckett, CEO of Duckett Enterprises and former NFL running back, and Tyrell Slappey, educator and owner of Round One Gaming Lab. Together, we offered insights into the entrepreneurial journey, the value of community support, and advice for aspiring young entrepreneurs.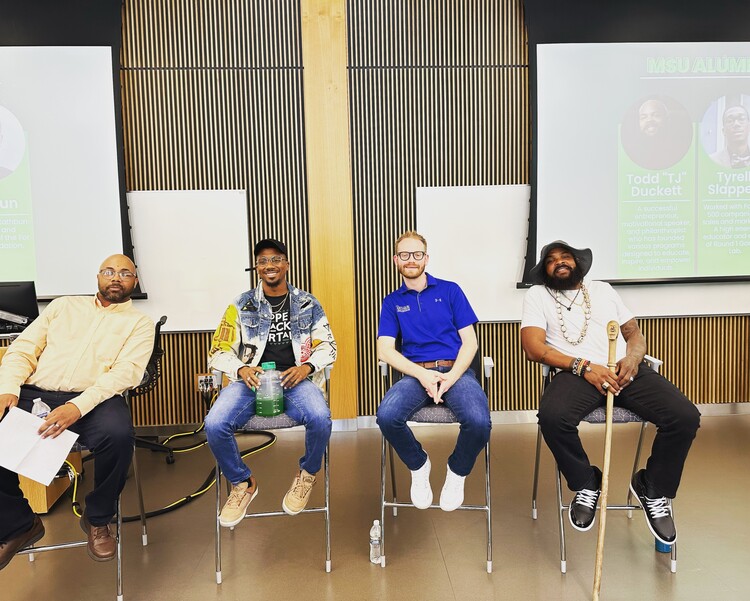 What words of wisdom and nuggets of advice did we share with the high schoolers?
Embracing Entrepreneurship: Being an entrepreneur means embarking on a journey filled with excitement, challenges, and the freedom to shape your own destiny. Each panelist had experienced the joys and struggles of entrepreneurship firsthand, representing diverse industries. From owning an independent insurance agency to building business enterprises and a mobile gaming venture, we understand the passion, adaptability, and calculated risks involved in entrepreneurship.
The Power of Community Support: The Spartan community at Michigan State University is known for its unwavering support and camaraderie. As panelists, we shared our experiences of how the support and guidance from the Spartan community, mentors, and alumni have played pivotal roles in our entrepreneurial journeys. Todd Duckett, through his philanthropic ventures and organizations like New World Flood and The Black Success Network, has exemplified the spirit of giving back. Tyrell Slappey, as a dedicated educator, imparts knowledge and values to future generations. We all believe in the importance of community support, mentorship, and collaboration to foster entrepreneurial success.
Insights from the Entrepreneurship Bootcamp: The Entrepreneurship Bootcamp, taught by Ken Szymusiak, offers a comprehensive curriculum designed to equip students with the skills and mindset necessary for entrepreneurial success. How did our group of panelists align with the main goals of the bootcamp?
Recognizing Entrepreneurial Characteristics and Behaviors: During the panel discussion, we emphasized the importance of passion, adaptability, resilience, and the ability to take calculated risks. These characteristics, among others, are essential for individuals to develop an entrepreneurial mindset and approach to business.
Exploring Personal Entrepreneurial Interests and Aptitudes: We encouraged the aspiring entrepreneurs to explore their passions, interests, and strengths. Understanding oneself and aligning personal aspirations with entrepreneurial pursuits are crucial steps in developing a successful business venture.
Learning Basic Concepts and Skills for Starting, Managing, and Growing a Venture: Throughout our discussions, we shared insights on various aspects of entrepreneurship, such as business planning, marketing strategies, financial management, and building a strong team. These are fundamental skills covered in the Entrepreneurship Bootcamp to empower students with the knowledge to start, manage, and grow their ventures.
Testing Business Models through Customer Discovery and Secondary Research: We stressed the significance of validating business ideas by engaging with potential customers, conducting market research, and analyzing industry trends. The bootcamp provides students with tactics and methodologies to test the validity of their business models, ensuring a customer-centric approach.
Creating Viable Business Models: Lastly, we emphasized the importance of developing a viable and sustainable business model. The bootcamp dives deep into the essential components of creating a successful business, such as value proposition, revenue streams, cost structures, and competitive advantage.
As entrepreneurs, we have experienced the highs and lows of building businesses in diverse industries. Our presence on the Entrepreneurial Panel at Michigan State University's Broad College of Business allowed us to share our journeys and offer valuable advice to aspiring young entrepreneurs. The Entrepreneurship Bootcamp aligns with our collective wisdom by providing students with the necessary skills, mindset, and knowledge to navigate the entrepreneurial journey successfully. Embrace your passion, seek mentorship, and leverage the invaluable resources and support systems available through the bootcamp and the Spartan community. With determination and the right tools, these students can transform their entrepreneurial aspirations into a reality.