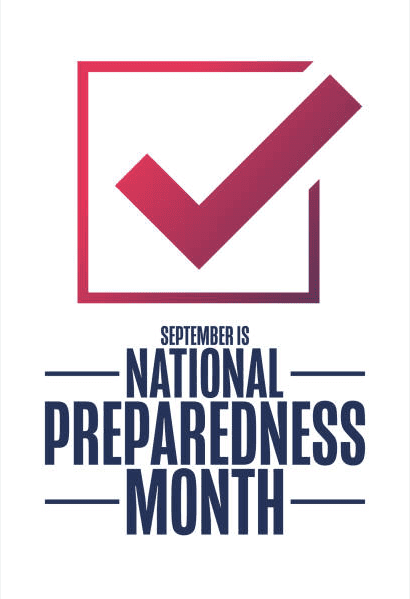 September is National Preparedness Month, and it's the perfect time to ensure you're ready for unexpected disasters. The Michigan Department of Insurance and Financial Services (DIFS) is emphasizing the importance of having a plan to cover insurance policy deductibles in case of emergencies. This message resonates deeply with us at Rathbun Insurance because we understand that being prepared goes beyond just having insurance coverage – it's about ensuring you can access that coverage when you need it most.
A deductible is the amount of money you must pay out-of-pocket before your insurance kicks in to cover the rest of your claim. For instance, if your homeowners' policy has a $1,000 deductible, you'll need to pay that amount first in the event of a covered loss. While opting for a higher deductible can lower your premium, it's crucial to be financially ready for the out-of-pocket costs it entails. To make informed decisions, call your Rathbun Insurance Account Manager today to review your policy documents. We can talk through your deductible, ensuring that it aligns with your needs and budget.

Beyond preparing for deductibles, National Preparedness Month offers a checklist to safeguard your financial and personal interests:

Review Your Policies: Understand your insurance coverage, especially for situations like flood damage, which may not be covered by standard homeowners or renters insurance. Explore options with your Rathbun Insruance Agent.
Create an Inventory: Document your personal property with photographs or videos, including valuable items not shown in visuals. Store this information in a secure place, like a safe deposit box or online, so you can provide proof of ownership in case of a loss.
Compile Important Contacts: Make a list of essential phone numbers, including family members, insurance agents, and insurance companies, to quickly reach out for assistance during emergencies.
Secure Policy Documents: Keep copies of your insurance policy declaration pages and insurance cards in a safe location, such as a safe deposit box or online in a cloud-based storage platform. This ensures you can access them even if the originals are damaged or lost.
At Rathbun Insurance, we're committed to helping you protect what matters most. Being prepared for unexpected events is a fundamental part of safeguarding your financial future. If you have any questions about your insurance coverage, don't hesitate to reach out to us. Visit our website or contact us today to ensure you're ready for any unforeseen challenges that may come your way.