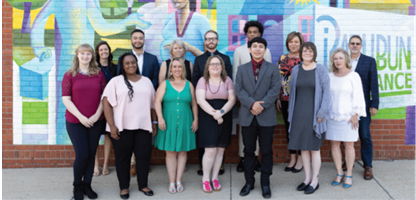 We live in an app-enabled world. You can order groceries, hire a dog walker and book a vacation without leaving your home or speaking to a real person. It makes sense to think insurance is something you can do online, too.
And sure, there's an app for that. Many apps, in fact. But is it a good idea to use them?
Here are 10 reasons an independent insurance agent is better than an app:
1. Personalized service
Your Rathbun independent insurance agent offers personalized service that online platforms can't match. Insurance isn't one-size-fits-all. We take the time to get to know you and your specific needs so we can find the best insurance options for you. We prioritize ensuring you're properly covered without spending money on things you don't need.
2. In-depth knowledge
Insurance is complicated. It involves a lot of jargon and complex terms that can trip up even experienced industry professionals. At Rathbun Insurance, we are consistently educating ourselves to stay on top of the complex insurance world, and we can explain even the most convoluted provisions in clear, understandable terms. What's included (and not included) is hard to figure out alone. We wade through the legalese on our end as a team so you don't have to.
3. Time savings
Online platforms require you to compare rates, read policies and fill out forms. We take care of these details for you. Wouldn't you rather be doing something (anything) else with your time? At Rathbun Insurance, we can do that for you.
4. Access to more options
We have access to a broad range of insurance products from a variety of the best carriers across Michigan. This means that we can provide more coverage options and better pricing than you'd likely be able to find on your own.
5. Claim support
This is an important one: Insurance generally comes into play when something has gone wrong. We sincerely hope you never have to file a claim, but if you do, we can advocate for you. We'll help you navigate the process.
Also, if you're ever on the fence about making a claim, we can assist you. If you file too many claims on a policy, the insurance company can increase your premiums or drop your policy altogether. We're here to help you evaluate the situation. It's like having a knowledgeable friend in your corner when you need one the most.
6. Professional, well-informed advice
Sure, maybe your friend had a good experience with an insurance app. But maybe they just got lucky. They might not have a sports card collection worth thousands of dollars that needs protection. And they might not know how to handle a catastrophe or whether their insurance will cover them when they need it.
No offense: Your friend doesn't know insurance. But we do. And we love giving our clients the best advice we can, based on our professional experience and knowledge. We'll help you make sound decisions about the types and amounts of coverage to purchase.
7. One-stop shopping
We have relationships with various carriers and offer all kinds of coverage — home, auto, life, health and so forth. Whatever you need, we can help you. It simplifies your life a lot when all your coverage is under the same roof.
8. Regular policy reviews
If there's one constant in life, it's change. And your insurance needs change as your life changes. We conduct policy reviews with our clients regularly to make sure their coverage evolves as needed. Different insurance carriers might be better suited to you as your life changes, and we have relationships with multiple carriers.
Have you ever received a policy update notification and wondered if it mattered? It does! Even tiny changes to the definitions and terms section of your policy can significantly impact your coverage. And guess who's here to help if you have questions about those indecipherable letters? You got it — We are!
9. Privacy
We've all seen the news: Massive data breaches are becoming increasingly common. We have the most stringent safeguards to keep your sensitive information safe and private. You never know what kind of security standards an app will offer.
10. Accountability
We're proud members of the community. For that reason, we take pride in our work and our reputation. For starters, it's just the right thing to do. Our business also depends on referrals and positive word of mouth. If you're not satisfied, we're not successful. So we do our very best, every day, to do right by our clients and our community. It's a point of pride for us.
Thanks for hearing us out. Still not convinced? Give us a call. We're always happy to talk insurance.