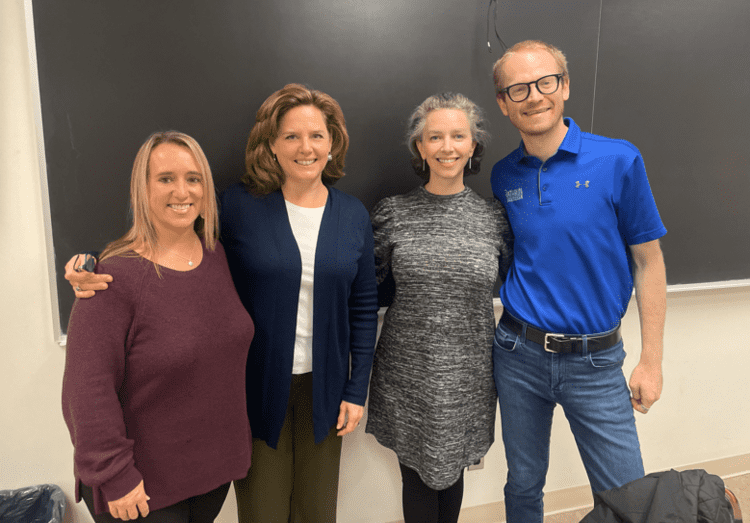 At Rathbun Insurance, we go beyond the conventional realm of insurance coverage. We're dedicated to nurturing the next generation and giving back to our community. Today, our President, Ben Rathbun, and Producer, Heather Kim, had the honor of guest lecturing at Michigan State University's Public Communications in Arts, Cultural Management, and Museum Studies program. During this lecture, they introduced students to Rathbun Insurance and our unwavering commitment to mentorship and community engagement.
During our lecture, we emphasized one of our agencies core values: "Give It Away to Keep It." This is not just a slogan; it's embedded in our DNA. We firmly believe in providing more than insurance – we believe in nurturing talent and leadership within our community. As part of our mission, we are committed to sharing our knowledge with the next generation of professionals.
We discussed the significant role that community investment plays in building our brand. We talked about various ways in which Rathbun Insurance contributes to our community, such as:
Paid Volunteer Hours for Staff: We provide our staff with paid volunteer hours, resulting in over 120 staff volunteer hours per year. This not only benefits our community but also empowers our employees to give back. Four employees currently serve on nonprofit boards and 10 employees are active members of local nonprofit organizations.
Quotes for a Cause Campaign: Our "Quotes for a Cause" campaign is a prime example of our commitment to community investment. This initiative alone contributes $12,000 to our community each year, highlighting our dedication to making a difference.
Mentorship Programs: We are deeply committed to providing mentorship to the next generation of professionals. We actively participate in mentorship programs through the Lansing School District, the Wilson Talent Center, and local community colleges and universities.
Additional Monetary Donation: Annually, Rathbun Insurance's total community impact totals more than $50,000.
Because we were guest lecturing at the Public Communications in Arts, Cultural Management, and Museum Studies, we lifted up our 2023 art-specific donations totaling roughly $25,000, benefiting organizations and initiatives such as:
Lansing Art Gallery-Art Path Sponsorship ($5,000): This sponsorship supported our local art gallery and provided opportunities for students to explore and engage with the arts.
Scrap Fest ($10,000): Our contribution to Scrap Fest encourages sustainable and creative arts initiatives, fostering artistic expression and engagement.
Mural on Our Building ($10,000): This project enhances the aesthetic appeal of our neighborhood while offering community members the chance to actively participate in art.
At Rathbun Insurance, we believe in empowering dreams and nurturing the next generation. Beyond insurance, our commitment to mentorship, community engagement, and art-specific donations reflects our dedication to building a stronger, more vibrant community. We're not just an insurance agency; we're a catalyst for positive change, one investment at a time.