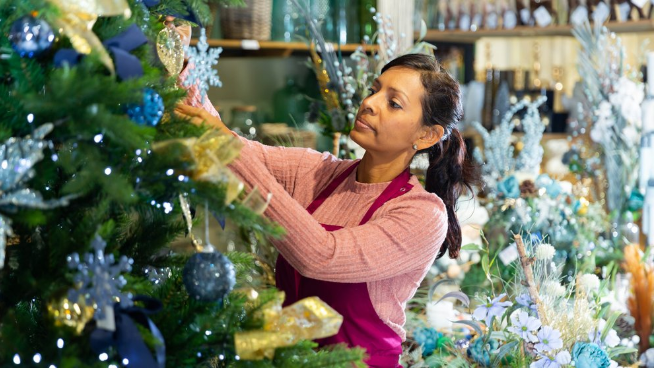 Adding some holiday magic to your business? From accessibility to food safety, we've got you covered. Check out these 15 tips to keep your holiday decorations safe.
1. Holiday tree fires: Set up your tree(s) far from any heat sources, such as fireplaces, radiators or light fixtures. Use lights approved for indoor tree use and turn them off when you close for the day. If you have a real tree, water it frequently and dispose of it before it becomes dry tinder.
2. Walkway hazards: Remove water, ice and snow from your walkways. Use only nonslip mats and discard floormats that show signs of wear. Worn and bunched floormats are a typical trip hazard resulting in significant liability (they also look less welcoming and professional).
3. Extension cord tripping hazards: Secure the cords you use for lights and decorations. Use safety mats, cord concealers or tape to prevent trip hazards.
4. Ladder falls: Each year, many people suffer injuries from falling off ladders while hanging holiday decorations. Make sure you have the right ladder for the job, enlist a spotter and always keep three points of contact on the ladder (e.g., two feet and one hand). Place your ladder somewhere solid and flat. Never place it on an uneven or slippery surface.
5. Overhead hazards: Securely affix overhead hanging decorations to prevent them from falling and causing injuries. Don't hang decorations from sprinkler systems because they can inhibit the system's operation.
6. Hidden exits and signage: Do not block exits or conceal emergency exit signs, fire alarm pulls, fire extinguisher labels or safety signage with decorations. They need to be visible and easily accessible in an emergency.
7. Accessibility for individuals with disabilities: Ensure your holiday decorations do not obstruct hallways, exits or accessible routes for people with mobility issues or visual impairments.
8. Sensory conditions: Some individuals might find overly flashy, noisy or dense decorations overwhelming. More subtle, calming decor creates a welcoming environment for all.
9. Food safety: If your holiday decorations include festive treats or candies, make sure they're safe for everyone. Store them hygienically and at proper temperatures. Provide fun nonfood alternatives for people with food allergies.
10. Heater hazards: Keep stockings, dangling greenery, and all other decorations clear of fireplaces, heaters and wood stoves. If you have a real fireplace, use a screen to contain embers.
11. Electrical fires: Overloading electrical outlets with holiday lights and decorations can lead to electrical fires. Use safety-tested lights and discard any with frayed wires, broken sockets or loose connections. Outdoor décor should be rated for outdoor use to protect against weather-related electrical issues. Ground-fault circuit interrupter sockets can protect against electric shock. And avoid daisy-chaining your extension cords.
12. Poisonous plants: Many traditional holiday plants like mistletoe, holly and poinsettias are poisonous if ingested. Keep them away from animals and small children. Remind your staff about the hazards, too.
13. Choking hazards: Small decorative items like tinsel, ornament hangers and mini-pom poms can pose a choking hazard to children and animals, so keep an eye out if kids, pets or service animals are around. Decorations that double as toys must meet safety standards for children to play with. Heed safety warning labels.
14. Candle fires: Candles can add a warm atmosphere to your festivities but can also cause fires. Use appropriate candle holders, keep candles away from flammable objects and never leave candles unattended.
15. Outdoor decorating hazards: Secure outdoor decorations to prevent flying hazards in windy conditions.
Seasonal decorations can create a festive atmosphere at your business for staff and customers alike. Enjoy the holidays and decorate safely!